Alumni living out servant-leadership
The faculty and staff at Mount Paran Christian School is thrilled to learn about all of our alumni accomplishments in college and beyond. So many graduates have gone on to higher degrees, missions work, entrepreneurial businesses, weddings, and having children of thier own. Check back to this page periodically for additional news about fellow classmates and where they are now. We also encourage you to follow us on the Alumni Association Twitter, Facebook, and LinkedIn feeds for updates.
---
Class Notes
We want to stay in touch with all alumni! Please be sure to send us your updated information for Class Notes in the Wingspan magazine and let us know about some of your recent endeavors!
2016 Alumnae, Abby Richardson Designs Flagler College Gala Event Program!
2016 Mount Paran Christian School Alumni, Abby Richardson, shows the program she designed at Flagler College's 50th Anniversary Gala where the Board of Trustees, Founders, and significant leaders of the college all gathered to celebrate Flagler's 50th year. She still remembers to give all the glory to God. Proud of you, Abby!
2007 Mount Paran Christian School Alumni, Ryan Reid
Team Hola Cure | Hola Cure
Recently, three MPCS students training in the leadership program, goLead, Hannah Cantwell, Lola Robertson, and Ben Keller presented their service project idea to the Alumni Council. The council is considering their options as to supporting this project. Below is the link extending the opportunity for other Mount Paran Christian School Alumni who also might want to support it. Alums working together with the MPCS community produces awesome results. This time it is the alums supporting the efforts of goLead and the three juniors in their desire to be servant-leaders! https://events.lls.org/ga/AtlantaSOY19/tholacure
2011 Alum, Drew Anderson, Receives Award
2011 Mount Paran Christian School Alumni, Drew Anderson, was recently honored by the Dean's Clinical Honor Society for making all "A's" throughout his core clinical clerkship in medical school! Drew will find out in April where he will be doing his residency. The academic dean remarked how Drew and the others receiving recognition that night are awesome medical students who will be practicing soon!
Former MPCS Student and 1991 Alum Tour Kennesaw Campus for First Time!
It was a privilege to be able to give a guided tour of the MPCS facilities twice in the past week to two former students who attended Mount Paran Christian School "back in the day!" One was Jeanie Sue Greenwell Foster, who attended from PK3-9th grade and the other was Lee Harvey, a 1991 Mount Paran Christian School Alumni. They both came for very different reasons. Lee, who has never been on the Kennesaw campus, brought his wife and 3-year-old daughter to take a hard look at the Pre-School program while seeing the rest of the campus. Jeanie came because she too had never been on the MPCS Kennesaw campus, and particularly wanted to see the Murray Arts Center because of her interest in theater and performing arts. What a blessing it is to have alums reconnect with the school, even if it has been many years as in the case with these two! Let me know if I can show you the MPCS it has become today!
Ashleigh Youra '13 partners with MPCS Beta Club
2013 MPCS alum Ashleigh Youra and the MPCS Beta Club recently teamed up on a project called "Winter Blessings." Beta Club collected hats, gloves, granola bars, McDonald's giftcards, handwarmers, and water bottles and wrote notes of encouragement. This project began when Ashleigh expressed a desire to do something to help homeless people this winter and collaborated with Dr. Stephens on the project. They assembled the bags and presented them to a shelter on for distribution. Ashleigh commented, "I'm so grateful that my high school reached out to me to help with the winter care packages for the homeless! I pray that whoever receives them feels loved. Blessed to have gone to a school that cares so much about their students both past & present! Thank you, Ashleigh, for showing us what servant-leadership looks like!
Michael Browning '13 at the MPCS Donor Dinner
This past fall, 2013 alum, Michael Browning, shared his thoughts about the positive impact MPCS had on his education experience and development as an individual and a Christ-follower. Along with senior, M. Thrower, and MPCS Headmaster, Dr. Tim Wiens. Michael participated in a Q&A at the MPCS 2018 Donor Dinner discussing how MPCS helped him become the man he is today. He was accompanied by his wife, 2013 MPCS alumnae, Kayla Browning (Gilbert).
Grateful for your service Michael Elsbree '06
After graduating from MPCS in 2006, Michael Elsbree attended Georgia Institute of Technology on a Navy ROTC Scholarship. Each summer during his study time, Michael did various training programs across the country and the world to provide midshipmen with the background necessary to make informed decisions regarding their career choice. In December of 2010, He graduated from Georgia Tech with a Bachelor's of Science in Civil Engineering, and the next day received his commission as an Ensign in the United States Navy attending multiple schools to prepare him for a career as a Submarine Officer.
In December of 2012, he officially reported to the USS HENRY M JACKSON (SSBN 730) in Bangor, WA. training through the various qualification processes, including being the Officer of the Deck (OOD) responsible for safe operation of the entire ship, and was the Commanding Officer's direct representative for day-to-day operations. Those operations include navigation, ship handling (driving), radio communications, using sonar to avoid other ships to ensure the ship continued to operate safely. Michael says, "My favorite memory of my time on the USS HENRY M JACKSON was when we surfaced off the coast of Washington State, and I drove the sub as OOD in the sail while the sun set and a big harvest moon rose from the horizon to high in the night sky."

After serving three years as an Officer on the USS HENRY M JACKSON, Michael is now working as a Federal Employee, coordinating and executing Acoustic Trials for all of the Submarines in the Navy and other vessels. To date, he has ridden onboard 15 Submarines, including one British Submarine. He lives near Bangor, WA with his wife, Cameron, and two dogs, and enjoys the outdoors Thank you, Michael, for serving in the United States Navy with pride and dignity!
Do you remember?
With the passing of the honorable President George H.W. Bush, MPCS reminices about his visit to our campus. Read the full story in WingTips.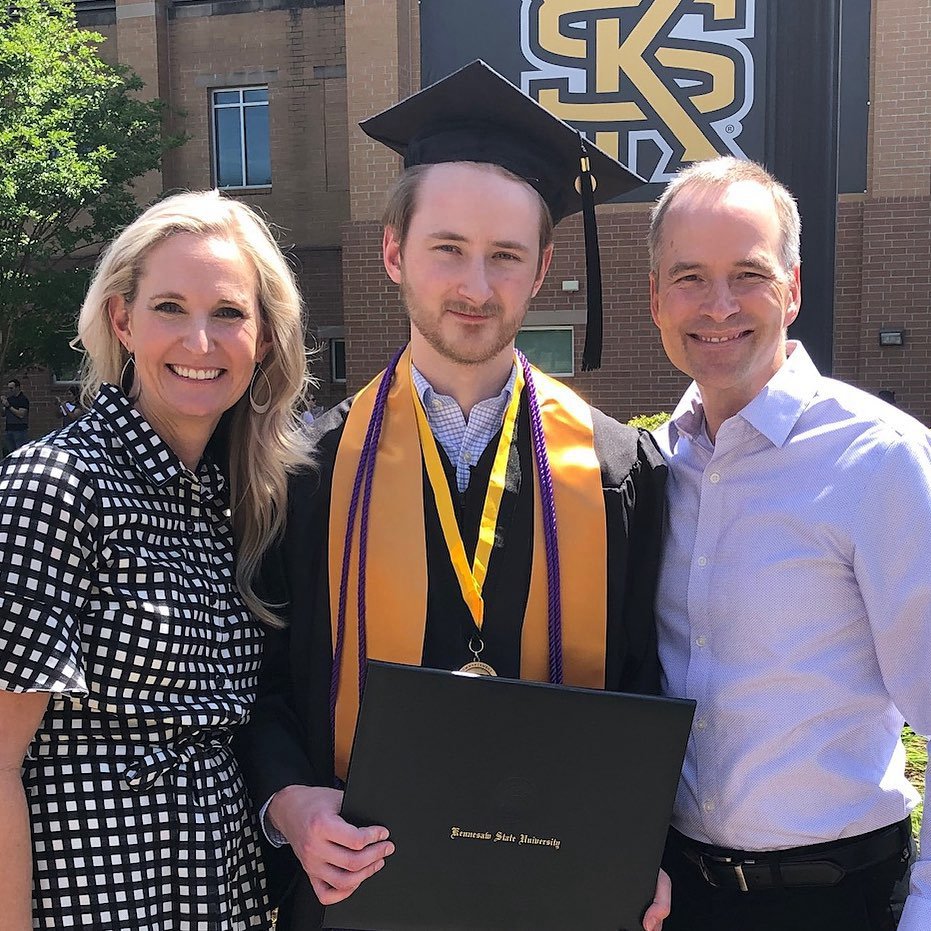 Congratulations to 2015 MPCS alum, Jonathan Hicks, who graduated recently with a Bachelors of Business Administration in Finance from the Coles College of Business at Kennesaw State University. Proud of you, Jonathan!
https://t.co/7E8AHDHzOp
Posted: May 21st, 2019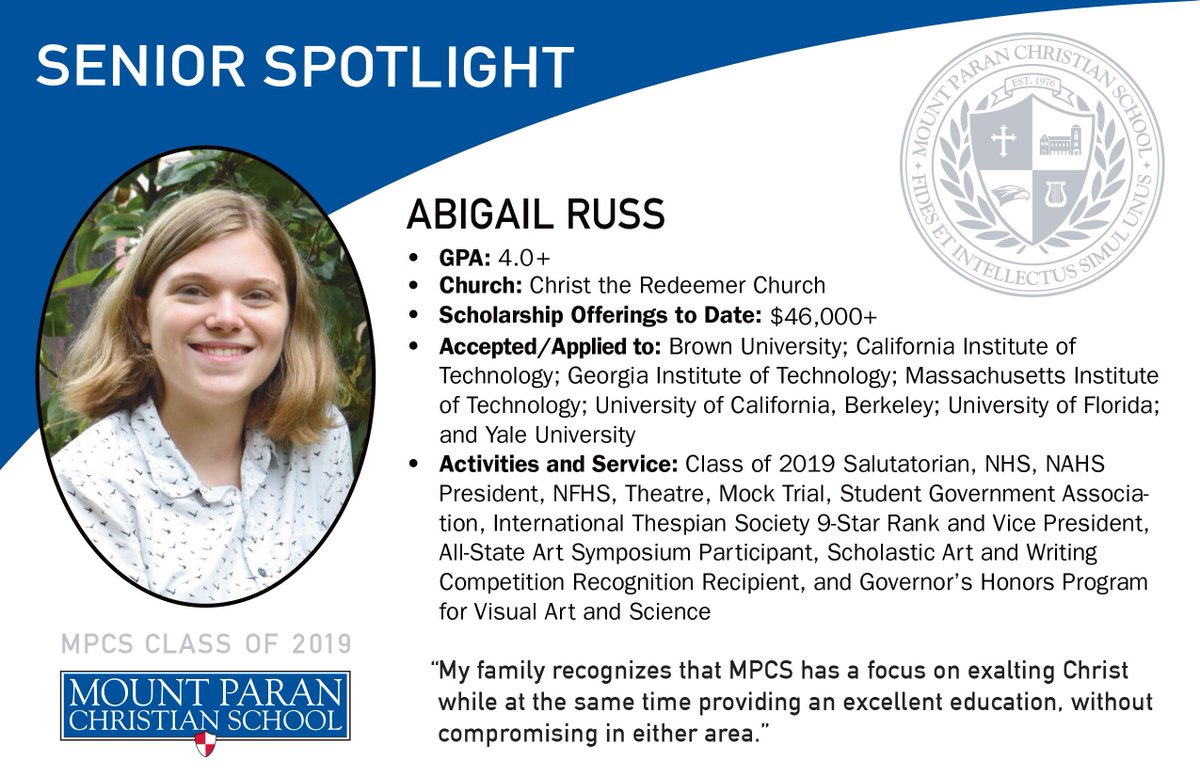 RT
@mtparanschool
: Salutatorian Abigail Russ has served in SGA, NHS, FHS, Mock Trial, ITS, NAHS, All-State Art Symposium, Governor's Honors…
Posted: May 21st, 2019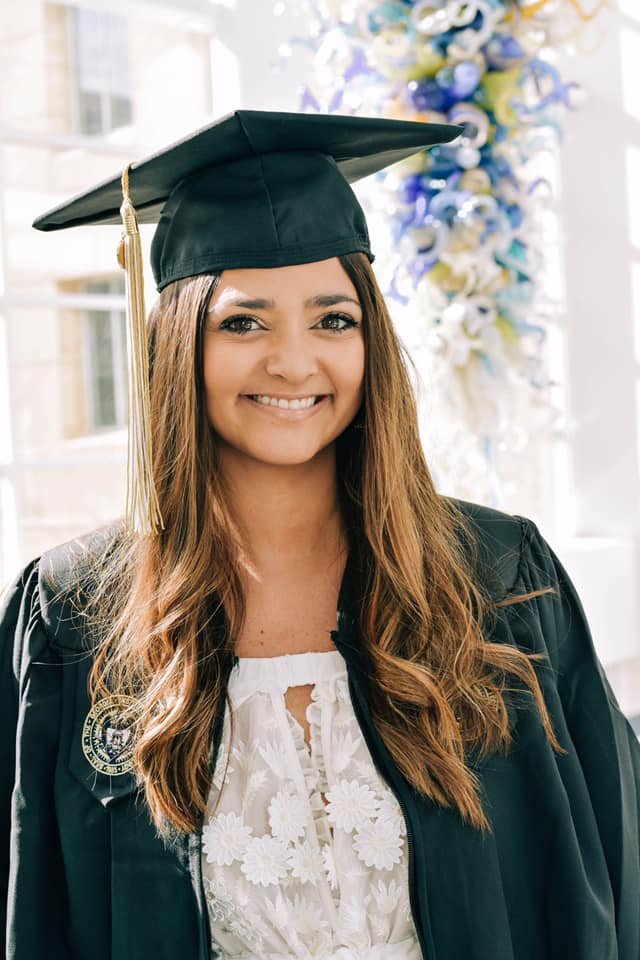 RT
@MPCSAlumni
: Ashley Bilson earned her Bachelor of Science in Business Admin (with a concentration in Finance) from Georgia Tech recently…
Posted: May 20th, 2019
Alumni Spotlights:
Nathan Schreer '10
Nathan Schreer '10 came to Mount Paran Christian School in first grade, was voted most outstanding senior, and received three Eagle Awards. Nathan received his bachelor's degree in Music Education from the University of Georgia and his master's in Music Education from Boston University. He is currently the Assistant Choral Director at Milton High School where under his direction, Milton received 11 Shuler Hensley nominations and won six, including overall production. Nathan was recently honored during the Murray Arts Center 10-Year Celebration and presented with the first "MACkie" award as Arts Alumnus of the Year, presented for demonstrating an intense desire to pursue the arts. Nathan shared, "MPCS equipped me with the knowledge to go out into the world as a confident and informed Christian. Doing something you love makes life's challenges worthwhile."
---
Ronald Bethel
Congratulations to the 2018 Honorary Alumnus of the Year: Mr. Ronald Bethel. He has served the students at MPCS for 25 years in various capacities, sometimes working two jobs at the school simultaneously. Anyone that knows Ronald knows that it's not just what he does but the way he does it; he always has a smile on his face while serving his fellow employees, the faculty, and, of course, the students. Ronald has spoken at chapel, is a member of the Stanley Club, and is one of a very few employees on this campus to having received the Servant-Leadership Award from the Headmaster. Quite an achievement! For Ronald, it's about taking pride in your work, serving others, and helping their day to go just a little bit better. He has been married to his wife, Wanda, for 22 years and together have raised four children.
---
Caroline Bradford '03
Alumnae of the Year, Mrs. Caroline Janas Bradford graduated from MPCS in 2003, having attended MPCS since preschool. She earned her undergraduate degree in 2008 from Samford University with a Bachelor's of Science in Education and double major in Athletic Training and Physical Training. In 2012, she received her Master's in Educational Leadership from Georgia Southern University. She began her eleventh year of teaching Lower School/Preschool Physical Education and coach at MPCS. Caroline has often gone beyond the call of duty in serving her community through the school. Caroline epitomizes what it means to be a servant-leader carrying out the school's mission. Athletic Director, Mitch Jordan, says, "Caroline's passion for MPC's athletic program is contagious. We are fortunate to have her enthusiasm and positive energy as both a coach and a leader." She is married to Josh Bradford and the mother of two boys, Knox, who attends MPCS Pre-School and Colt (15 mos.). Thank you, Caroline, for your servant-leadership and dedication to MPCS.