Welcome back MPCS Alumni!
We are thrilled you are visiting your alma mater online! There is so much happening each year as our alumni base continues to grow and do amazing things beyond your high school years. Learn more about our alumni leadership council and check out the news and events pages for up-to-date information on upcoming visits and reunions.
MPCS Alumni Association Mission:
The mission of the Mount Paran Christian School Alumni Association is to promote and support Mount Paran Christian School and to foster a spirit of community and friendship among the school's alumni.
Congratulations to the Class of 2019
We would like to welcome the class of 2019 to our alumni group! With 109 added, our alumni base now exceeds just over 1800! The class of 2019 distinguished itself in many ways but here are some numbers that the demonstrate the strengths of the class excelling in academics, arts, and athletics.
Thirteen (13) alums choose to continue to develop their faith by choosing to attend a Christian or Catholic college.
Of the $8+ million dollars offered as scholarships to this class (not including HOPE and Zell grants), over 60 academic/arts/athletic scholarships were offered/awarded!
Seventeen (17) alumni are staying locally by attending Kennesaw State University!
Twenty-five (25) alums will be attending either the University of Georgia or Georgia Tech as 26% of the class was accepted to one or both!
One alum will be attending a military academy. - a great achievement!
47% of this year's alumni class will be going out of state to attend college. From Michigan to California to New England and the Midwest, the class of 2019 will be attending colleges across the country!
One alumnus from this class will be attending an Ivy league school
More than 33% alums from this class have joined the MPCS Facebook Alumni Group
More than 33% committed to give their $20.19 recommended pledge as a first-time alumni member (highest of any graduating class)
Many alumni from this class have intentionally already committed to get involved in campus ministries or local churches as they enter their first year at college.
Alumni Association Membership
Automatic and full membership is available to all MPCS graduates and honorary membership is granted to MPCS students who did not graduate from MPCS but meet the established criteria for honorary membership. Honorary membership may also be granted to any former or current faculty or staff member (non-alumni) who meets the established criteria for honorary membership. Honorary membership is also granted to parents of full-membership MPCS alumni who have met the necessary requirements. When matters of voting are extended to the association, only full members are entitled to vote.
Alumni Association Leadership Council
The Mount Paran Christian School Alumni Association Leadership Council comprises representatives from each graduating class, an executive council, and non-voting members such as the School's Headmaster, Director of Development, Assistant Director of Development and the Alumni Relations Manager. Any alumni association member may request to be a part of the leadership team by contacting the Alumni Relations Manager or the President of the Executive Council. In addition to full membership, any member interested in serving on the leadership council must be in good standing with the Association. For the year 2019, the following association members serve on the leadership council with an additional member being added yearly (June) from the current year graduating class. The leadership council is divided into the following subcommittees.
Alumni Association President: Caroline Bradford (2003)
Alumni Vice-President: Wes Watt (2009)
MPCS Alumni Relations Manager: John Braswell
| Events Committee | Outreach Committee | Communications |
| --- | --- | --- |
| Nick Caras (co-chair) 2012 | Tiernan Phillips (chair) 2006 | Taylor Williams (chair) 2009 |
| Hannah Ian (co-chair) 2012 | Jeff Jahn 2003 | Ansley Brague 2018 |
| Endien Freeman 1998 | Beau O'Dell 2006 | Madeline Daniels 2012 |
| Taylor Kinsey 2009 | Harleigh Palomaki 2017 | Josh Isenberg 1999 |
| Donna McCoy 1993 | Matt Rooke 2004 | Wes Watt 2009 |
| Brittany Varville 2011 | Bain Morgan (2011) | Jessica Davis 2019 |
Caroline Bradford, class of 2003 was recently elected by the MPCS Alumni Leadership Council to serve as its new president through June 30, 2021. Caroline follows Taylor Kinsey, who served as president form 2017-2019. The alumni council wishes to thank Taylor for all her efforts in expanding the alumni council and the alumni program. She was the right person for the right time! We will miss Taylor's leadership but are excited about Caroline's carrying the baton forward! In addition, we are happy to welcome new alumni council members, Brittany Varville and Bain Morgan to the alumni council. Both Brittany and Bain are 2011 alums who contacted the school to give back to the school out of gratitude for what the school meant to them.. Thanks, Brittany and Bain!
---
Alumni Council Member Profiles
Nick Caras '12
Class of 2012/Alumni Leadership Council, 2017-2019, Co-Chair-Event Planning Committee
Nick Caras, class of 2012, is married to Danielle Caras, lives in the West Cobb area, and has served on the Alumni Association Leadership Council since 2017. Nick graduated from the University of Alabama with degrees in Finance and Economics. He is self-employed and is currently operating two businesses. He and Danielle attend North Metro Church in Kennesaw. Nick's favorite scripture is 1 Timothy 6:12: "Fight the good fight of the faith. Take hold of the eternal life to which you were called when you made your good confession in the presence of many witnesses."
---
Hannah (Rainey) Ian '12
Class of 2012/Leadership Council, 2018-2019 Co-Chair-Event Planning Committee
Hannah Ian (Rainey) is a 2012 graduate of MPCS and joined the MPCS Alumni Association Leadership Council Committee in 2018. She and her husband, David (2011), attend Watkinsville First Baptist Church, where she volunteers as a college girl's small group leader. Hannah's life-scripture is: "Now faith is the assurance of things hoped for, the conviction of things not seen" (Hebrews 11:1). Hannah's hope is that MPCS alumni will give back to the school by investing using their talents and resources in the school.
RT
@HEROSportsFCS
: Kennesaw State's Dorian Walker brought a state title to his hometown when he was in high school, and he'd love to bring…
Posted: September 13th, 2019
RT
@MPCShigh
: Congratulations to Alison Vaughan '20 for qualifying as a National Merit Semifinalist! Over 1.6 million juniors took the PSAT…
Posted: September 13th, 2019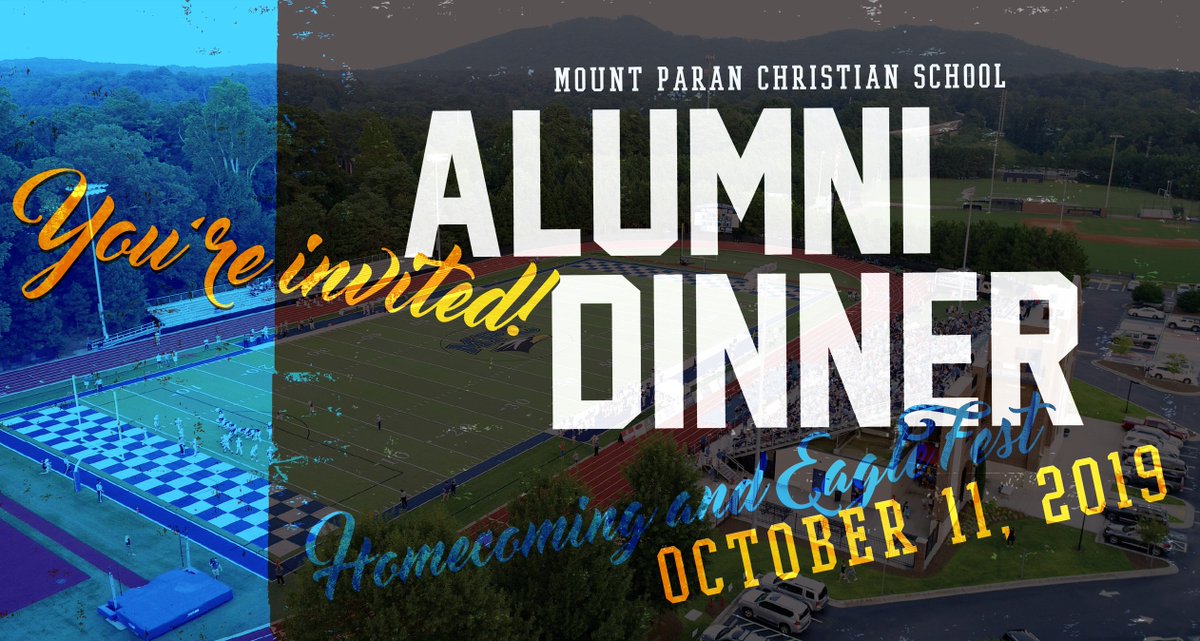 Posted: September 13th, 2019
Alumni Reflections
This fall I will begin my 24th year at Mount Paran Christian School. While a few other folks have been here longer, I doubt if any of them have the perspective that I have of this wonderful community. I have taught in both Middle and High School and served as the Dean of Students for many years but it was about this time last year that I began working in my current position as MPCS Alumni Relations Manager. I have told anyone that has asked and even some who have not that I am having the time of my life working with the alumni community. While it may have taken me virtually a lifetime to find the position that I absolutely love, I could not be in a better place than I am now at this point in my life. I am thankful for the opportunity that I get every day to serve you in this way. The challenge is bigger that I initially thought but I think we are well on our way to making the MPCS Alumni Association one where not only is the school served but also one in which the alumni themselves are served.
The first year is in the books and what a blessing it has been! I have been able to reconnect with many of you via email, phone, social media, or seeing you at one of the many events we host for the alumni here on the campus. I walk away from you each time having heard your story and learning of your faithfulness to the Gospel of Jesus Christ. While I wasn't sure what to expect when I began serving in this position, I have been incredibly pleased to learn of your faithfulness to serving others in your communities. Being on the "inside" of the walls of the MPCS community for so many years, I really did not have a perspective if our alumni community was being true to the mission of the school. Now, having been on the "outside" of the campus and on the "inside" of the alumni community for over a year, I fell I better understand what the alumni community is doing in carrying out the mission of the school. I am ecstatic in what I have learned! There is no doubt that the MPCS community is a special one and that God's anointing has been upon it in so many ways. I love hearing your stories and encouraging you to be faithful to the high calling the Lord has placed upon your life.
Serving alongside the Alumni Executive Council, we would love your feedback for what you would like to see the alumni association become and what you feel would make it more effective and to do what it is designed to do. Just reach out to one of the council members listed on this site or call me personally. We welcome your ideas! But more than that, we want to hear your life-stories and extend to you an open invitation to come back to the campus anytime and reconnect with the school and with each other. Your life-story matters to us and YOU matter to us. So, come back and see how we are doing! See how we are much the same place as when you graduated but see how we are slightly different in other ways in our continued pursuit to make this community an exemplary place for young minds and hearts to grow in all phases of their personal development; mind, body and soul.
Thank you again for allowing me to work with you. I look for even greater things for year two in making the alumni association one that serves both the school and the alumni in preparing servant leaders to honor God, love others, and walk in the truth of scripture. If we all do that, we will do what we have been created to do, bringing glory to His name and growth to His kingdom. Hope to see you at homecoming on October 11!
Blessings!
John Braswell